Wed, 06 March 2019 at 3:16 pm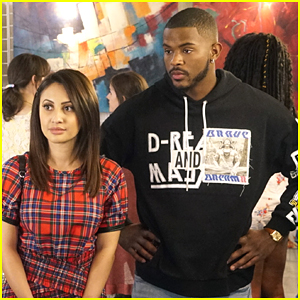 One of the biggest developments on this season of grown-ish was the pairing of Ana and Aaron.
Francia Raisa, who plays Ana, spoke with TVLine about how she personally feels about the pairing and if there's any future for them at all.
"If you're asking as Francia, I would have never messed around with anyone my friends ever even liked," she admitted when asked if Ana was overthinking the relationship at all. "Back when I was single, even if a friend thought a guy was cute, I backed off. So I have my own feelings about what Ana is doing, but I also understand that she's very young."
Francia added, "She feels seen by Aaron at the moment, and that's clouding her judgment. She felt like an outsider before, and now someone likes her. It's really exciting. So I don't think she's overthinking it, because a part of her knows she shouldn't be doing this."
However, as Francia, she's not the biggest fan of Ana starting a relationship with Aaron (Trevor Jackson), because of her friendship with Zoey (Yara Shahidi).
"As Francia watching it, I'm like, 'Ana, what are you doing? Your friend liked him. And he was kissing another girl in front of her when she still liked him!'"
"All of these things go through my head. But for the character, I think it's a fun little college romance," Francia continued. "It's a nice way for her to grow up and open her mind to things. She's now attracted to someone who's the complete opposite of her with such different beliefs. As a woman, regardless of how long this relationship lasts, it's going to make her more open minded."
Stay tuned for a sneak peek at tonight's ep!
Like Just Jared Jr. on FB