Fri, 27 March 2020 at 5:07 pm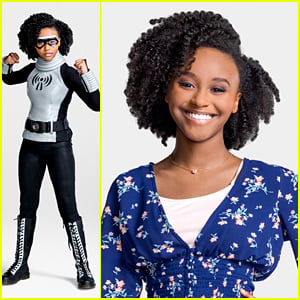 Dana Heath is ready to kick some butt in the new series Danger Force!
The young star will take on the role of Mika, who is Miles' twin sister, and she is "strong, smart, independent, a natural leader and is always up for a challenge."
Dana added that she is similar to Mika because they are "both creative, optimistic and smart," via J-14.
JJJ got to know Dana with some fun facts about herself. Some things we learned include just how many times she's read the "Harry Potter" book series, her love of music and art, and more.
Be sure to tune in to the series premiere of Danger Force on Saturday (March 28) at 8/7c on Nickelodeon!
Click inside for Dana Heath's 10 Fun Facts…
I love art! I took an art class for three years before I got the role of Mika.
I enjoy singing in my past time. My mom is a songwriter and I grew up in the studio, so I feel like I have music in my blood.
Before I became an actress I did a bunch of theatre. I fell in love with the stage and ever since I pursued acting.
I have a dog called Bam Bam, named after a Flintstones character. I plan on getting 2 more dogs and continue the same name theme.
I love to play guitar in my spare time. I am currently working on playing "Boulevard of Broken Dreams"!
I love Harry Potter. It is my favorite book series and my only obsession. I've read the whole series eight times!
I love to play video games! My favorite are the Batman: Arkham Series. I have three video game consoles in total.
I also love comic books! My favorite are the Batman comics that specifically revolve around the Joker.
I enjoy baking. If I could, all I would eat is home baked pastries!!
I love to design houses in games because I enjoy creating different house styles and aesthetics.
Like Just Jared Jr. on FB