Tue, 27 April 2021 at 5:26 pm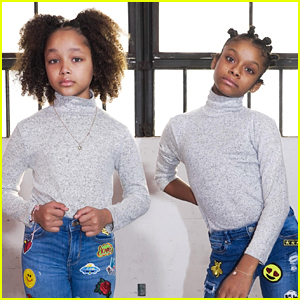 Dani (right) and Dannah Lane (left) have been bringing the laughs in the comedy Kenan!
The young stars play Aubrey and Birdie, the two daughters to Kenan Thompson on the new NBC series.
Dani's Aubrey is the older sibling, who is smart, loyal and fiercely protective, while Dannah's Birdie is the younger one, and she is described as silly, adorable and unpredictable!
Kenan follows a widowed dad, Kenan (Thompson), who's juggling a high-profile job as the host of an Atlanta morning show and raising his two girls. As Kenan tries to move on, his father-in-law (Don Johnson), brother (Chris Redd) and co-workers all have strong opinions on the best way to live his life.
The season one finale is airing TONIGHT (April 27) at 8:30pm ET/PT on NBC. If you haven't already, we highly suggest you check it out – it is SO funny!! You can currently catch the entire first season on Hulu.
Ahead of the season finale, JJJ got to know sisters Dani and Dannah with 10 Fun Facts. Click inside to see what they shared…
See their combined 20 fun facts below…
1. Dannah is double jointed.
2. Dani is a Mortal Kombat champ.
3. Dannah can stand on one foot for 1 min.
4. Dani can count backwards.
5. Dani and Dannah have 5 pets.
6. Dani can do a balance beam.
7. Dannah likes to paint bananas.
8. Dani is allergic to grass.
9. Dani and Dannah go to a beach every day in the summer.
10. Dannah is a sleep talker.
11. Dani wants to be a contortionist.
12. Dani throws the best puppy parties for their dogs.
13. Dannah only likes dinosaur nuggets.
14. Dannah won't eat any condiments or sauces.
15. Dani has a birthmark in her eye.
16. Dannah's dream pet is a turtle.
17. Dannah hand makes her own earrings.
18. Dani learned to read at 2 years old.
19. Dani's favorite ice cream is mint chip.
20. Dannah's favorite ice cream is vanilla.
You can also check out Dani and Dannah on their YouTube channel!
Like Just Jared Jr. on FB