Wed, 12 May 2021 at 1:01 pm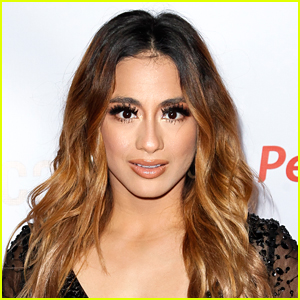 Ally Brooke just launched the first episode of her brand new video podcast The Ally Brooke Show!
The 27-year-old singer and author is "looking forward to having fun, engaging and uplifting conversations" on the show.
"There's nothing I love more than meeting people from different walks of life, and this show will allow me to share their incredible stories with my amazing fans," Ally added.
In the first episode, she talked about her time in Fifth Harmony, and how although there were a lot of great moments, she didn't really enjoy her time in the group, for various reasons.
Find out more inside…
"We took over the world. We took the music industry and the entertainment industry by storm… I'm going to say how proud I am of Fifth Harmony, how proud I am of my work in Fifth Harmony, of what we did, of what we did for music, of what we did for girls, what we did for female empowerment, what we did for girl groups," Ally said.
"We had hits, we had anthems, and great songs…But I hate saying this. My time in Fifth Harmony, I didn't enjoy it. I didn't love it. I didn't like it. It was hard because there was so much going on," she continued. "So much behind the scenes, so much toxicity, so much abuse, so much abusive power, so much mental abuse, verbal abuse, and it's just horrible and to me it's a shame because we were so big and I should have enjoyed myself more."
"It was hard for many, many reasons. It was tough because I didn't trust anybody around me. A lot of people that were in our circle. It really damaged me for quite some time, and for quite a while. I don't want to hang onto the negative, but I have to be honest," she added.
Ally also shared that when she looks back at some of those times, it's not good memories.
"Sometimes I don't like looking back at that time. I'll look at a music video and all I'll remember is how I felt that day. How I felt super insecure, or how I felt let down or how I felt like I wasn't good enough," she said. "People around me told me that I wasn't good enough, I wasn't cool enough, I wasn't valued, nobody cared about me. It was awful but I also try to remember the good times, of being in Brazil…all of our fans chas(ing) us down, and thousands stamped(ing) us, and going to Japan and Mexico."
See more on the first episode below…
Like Just Jared Jr. on FB