Fri, 25 June 2021 at 2:05 pm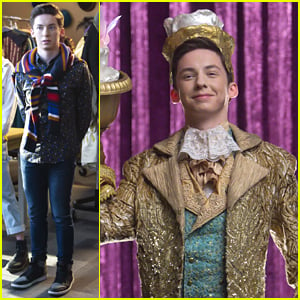 French exchange student Antoine is stirring things up on High School Musical: The Musical: The Series' latest episode.
If you're wondering who the actor is that portrays him, it's none other than Broadway star Andrew Barth Feldman!
WARNING! SPOILER ALERT! Keep reading at your own risk as this post contains spoilers for this week's episode…
Andrew made his first appearance on HSMTMTS last week in episode six, "Yes, And…," but had a more prominent role in this week's episode "The Field Trip," when the East High kids headed to North High as they suspect that North High has stolen a key costume piece. So naturally, they infiltrate their rival school and end up in a competitive dance-off.
In the episode, Antoine also shows interest in Ashlyn (Julia Lester) and directly hits on her, even asking her on a date. After she says she has a boyfriend and points out Big Red, Antoine says that he "looks ridiculous" and she should break up with Big Red and date him instead.
During the dance off, he also saves her from almost falling down the stairs, and Big Red is not too thrilled about him.
We also get to hear Andrew sing during the dance-off!
If you didn't know, at 16, Andrew starred as Evan on Broadway in Dear Evan Hansen for a year, right before Jordan Fisher took over the role. He is the youngest to play Evan on Broadway, and the only teenager to assume the role!
Also in Dear Evan Hansen at the same time was Roman Banks, who just so happens to be a new, recurring character on season two of HSMTMTS as well. Learn more about him here!
In addition, Andrew is a Jimmy Award winner for Best Actor for his portrayal of Frank Abagnale, Jr. in Catch Me If You Can. (The Jimmy Awards are the National High School Musical Theatre Awards.) He performed at the ceremony, and that ultimately led to him getting an audition for Dear Evan Hansen, after the lead producer saw his performance.
To bring this full circle, the first show that Andrew saw on Broadway, at age three, was Beauty and the Beast, and now he's playing Lumiere in a pseudo production of the musical at North High on High School Musical.
"If you haven't yet, please watch episode 206 of High School Musical: The Musical: The Series. I'm so proud of it and so in awe of everyone who worked on it. It's liKE REALLY REALLY GOOD I MEAN IT'S REALLY GOOD," he wrote on Instagram after ep six premiered. "Thank you so much for all the love today. It means the world. I can't wait for you to see more! #GONORTHHIGH"
"This is the coolest costume I've ever gotten to wear ever. And the candles were very heavy. And it was very worth it," he added of the Lumiere costume.
You can follow Andrew Barth Feldman on Twitter @andrewbfeldman and on Instagram @andrewbfeldman_
Check out a fun YouTube video below from his last day at Dear Evan Hansen (which also features Roman and Ben Platt), and an amazing video of him singing "For Forever" from the show, alongside three other Evans!
Like Just Jared Jr. on FB