Thu, 02 July 2020 at 2:28 pm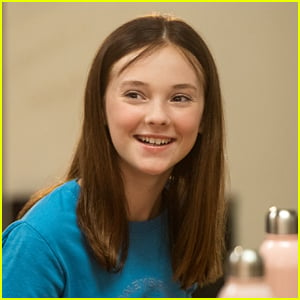 Sophie Grace can soon be seen in The Baby-Sitters Club!
The teen actress will be starring as Kristy Thomas, the president of the Baby-Sitters Club, and we got to know 10 Fun Facts about her.
Sophie recently told J-14 that Kristy is a "super cool and witty girl who is a natural leader. Life is always throwing her a 'curveball' but she's learning to deal with it. And she has her awesome friends and family to help her out."
"I definitely relate to Kristy. Besides the fact that we're both babysitters and goal-setters, we both come from big families, love dogs and like to be with our friends," she added.
The Baby-Sitters Club is based off the popular book series that follows the friendship and adventures of five middle-schoolers who start their babysitting business in the town of Stoneybrook, Connecticut.
You can catch the entire first season streaming on Netflix, starting TOMORROW (July 3)!
Click inside to read 10 Fun Facts about Sophie Grace…
1. My favorite Disney character is Mulan.
2. I love my plants and even name them.
3. Everyone in my family is an athlete but me, I'm the actor, but here I am in the dream role of Kristy, the athlete!
4. Jennifer Anniston is one of my favorite actors.
5. I have 3 brothers, 2 sisters and 2 dogs.
6. I love to sketch and draw.
7. My favorite candy is a tie between peanut M&Ms and Kit Kats!
8. The Baby-Sitters Club dyed my hair darker for the role of Kristy.
9. I rode my bike so much in quarantine that my neighbors thought I was training for something.
10. I cut my hair in preschool on St Patrick's Day and told my mom the leprechauns did it!
Like Just Jared Jr. on FB